5 Ways to Engage and Attract Job Seekers with Disabilities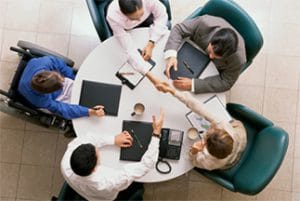 5 Ways to Engage and Attract Job Seekers with Disabilities
By the Getting Hired Team
In today's economy, job seekers with disabilities are an untapped talent pool for employers. As businesses look ahead to 2019, human resources professionals committed to a diverse and inclusive hiring process and workplace culture should consider strategies that can bring more job seekers with disabilities on board.
What Strategies Help Businesses Hire More Individuals with Disabilities?
There are many strategies to improve engagement with individuals with disabilities. Here are just five ways to help your business get started:
1.) Be Flexible
In recent years, we've seen an increase in flexible work options as businesses across the nation recognize the benefits of this exemplary practice.
Just consider employment attrition rates. A recent Stanford University study found that organizations that offer work-from-home opportunities cut attrition rates by 50 percent.
By giving employees the option to work from home, organizations can provide additional support to individuals with disabilities who may need a flexible schedule or alternative work arrangements due to transportation concerns or management of medical appointments, for instance.
2.) Engage with Students 
The National Center for Learning Disabilities estimates that there are 2.4 million students in the United States with disabilities, and three in five of these students are not currently employed.
There are various actions organizations can take to optimize their hiring strategies for this population, such as building relationships with college or university career and disability services centers.
By engaging with students with disabilities, employers can help these job seekers start their careers with confidence and immediately begin contributing to their communities and the economy.
3.) Participate in Celebratory Events
Sponsoring and participating in disability-related celebrations provides employees with visibility into what an organization's culture is like and helps employers build a positive brand reputation.
One prime opportunity is National Disability Employment Awareness Month (NDEAM), which occurs every October. There are a number of ways businesses can participate. Throughout the year, there are additional opportunities to express commitment such as Autism Awareness Day and Multiple Sclerosis Awareness Month, to name just a few.
4.) Leverage Social Media
Social media is an important tool in the modern recruitment industry, and inclusive employers should be taking full advantage of it to attract job seekers with disabilities.
A recent survey by the Society for Human Resource Management showed that 79 percent of job seekers use social media to look for employment, while 84 percent of organizations leverage these channels to attract new talent.
Staying up to date with current trends and using multiple online networks—from larger communities such as LinkedIn to smaller, industry-focused groups—can deliver valuable inclusive hiring results for employers.
5.) Promote Accessible Policies
Accessible design helps to ensure that individuals with disabilities are considered and advocated for in every stage of a company's operations and processes. This includes access to the company's website, job application process, workplace technologies and content. The U.S. Department of Labor's Partnership on Employment and Accessible Technology (PEAT) is a helpful gateway to resources to help ensure that the workplace technology you buy and implement is accessible to all employees and job seekers, including those with disabilities.
By embracing these strategies, employers throughout the nation can optimize their talent acquisition process and provide fair and equal opportunities for all.
At work, it's what people CAN do that matters
Subscribe to our updates, follow us on social media and learn how to spread the word.