Become a Supporter
of the Campaign for
Disability Employment
The Campaign for Disability Employment has generated strong support from businesses and organizations nationwide. Become a CDE Supporter today!
The following Supporters have demonstrated their commitment to sharing the "CAN-do" spirit by promoting CDE PSAs and related resources, displaying our Proud Supporter badge and engaging in additional outreach activities to help spread the campaign's message.
If you've joined the "What Can YOU Do?" movement, please tell us how and we'll display your organization's name here!

Supporter Spotlight: AMC Networks
Special thanks to AMC Networks for airing the CDE's "Who I Am" PSA during National Disability Employment Awareness Month in conjunction with the BBC America premiere of "CripTales," and for featuring our PSA on The Visibility Collection—an online selection of programming that spotlights and celebrates people living with disabilities. We're grateful to AMC Networks for sharing important messages about disability inclusion!
Special thanks to these proud CDE Supporters:
Note: Mention of trade names, commercial products, or organizations does not imply endorsement by the U.S. Department of Labor or U.S. Government.
Skip supporter links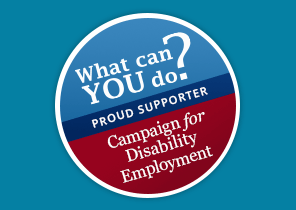 Show Your Support
Show your commitment to the CDE's mission by displaying our "What can YOU do?" badge of support on your website.