Become a Supporter
of the Campaign for
Disability Employment
The Campaign for Disability Employment has generated strong support from businesses and organizations nationwide. Become a CDE Supporter today!
The following Supporters have demonstrated their commitment to sharing the "CAN-do" spirit by promoting CDE PSAs and related resources, displaying our Proud Supporter badge and engaging in additional outreach activities to help spread the campaign's message.
If you've joined the "What Can YOU Do?" movement, please tell us how and we'll display your organization's name here!

Supporter Spotlight: Kessler Foundation
Special thanks to the Kessler Foundation, which frequently amplifies CDE content. In addition to sharing our social media content, the Foundation recently promoted our latest PSA, "Working Works."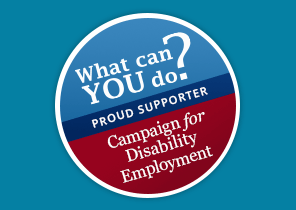 Show Your Support
Show your commitment to the CDE's mission by displaying our "What can YOU do?" badge of support on your website.