Meet the Cast of the
"I Can" PSA
The "I Can" PSA features seven working people with disabilities— not actors—sharing what they CAN do on the job, when given the opportunity. The diverse cast was chosen to reflect a broad range of skills and talents and challenge common misconceptions about disability and employment. Meet the cast of the "I Can" PSA.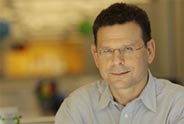 Bob Boorstin
I can solve difficult problems for a Fortune 500 company …
Bob works for a global consulting firm and is a former Google executive and speechwriter for a U.S. president. He earned a degree from Harvard University. Bob has bi-polar disorder, a mental health condition. Bob feels key factors in his career success have been taking care of himself and understanding how to manage his condition.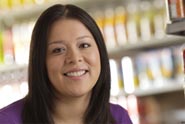 Patty Rivas
I can run a successful business …
Patty co-owns and manages a grocery store. She holds a master's degree in social work and worked as a social worker before becoming an entrepreneur. She decided to join members of her family in opening the grocery store because she thought it seemed like an exciting challenge and liked the idea of being her own boss. Patty also has paraplegia. Patty says the big factor in her career success has been support and encouragement from her family and friends.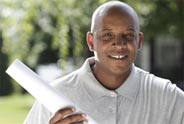 Michael Saulter
I can manage your home improvements …
Michael is a landscaper and carpenter. Throughout his youth he always enjoyed building things, so Michael chose his line of work with this interest and skill in mind. Michael has an intellectual disability that impacts his reading and writing. He says his disability wasn't a factor when deciding what job to pursue, but that he has had to develop different ways to make sure he understands his customers' needs. He says even though he works with his hands, comprehension and communication skills are an important part of the job.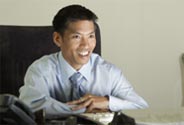 Mat McCollough
I can be a leader and empower people to succeed …
Mat is the Executive Director for the District of Columbia Developmental Disabilities Council. His job involves a lot of writing, working with and empowering parents and self-advocates with disabilities, and strategic planning with city leaders. In 2011, Mat was appointed by President Barack Obama to serve on the U.S. Access Board, an independent Federal agency devoted to accessibility for people with disabilities. Mat has an undergraduate degree in political science and a master's in public administration. His first professional job was as a grants manager. Mat has cerebral palsy and uses crutches to help him walk. His speech is also impacted by his cerebral palsy.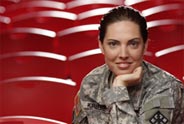 Meg Krause
I can put my military experience to work for your company …
Meg is an Army Reservist who served more than eight years as a medic in the U.S. Army. During her five years of active duty, she served two overseas tours in support of Operation Iraqi Freedom. Since leaving active duty and joining the Reserves, Meg graduated from Penn State University and now brings her passion for helping fellow service members and veterans to her civilian work as a public relations professional. Meg has post-traumatic stress disorder (PTSD) and says the key to not letting PTSD prevent her from succeeding on the job is effective communication with her employer and co-workers.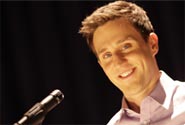 Josh Sundquist
I can motivate your audience …
Josh is a motivational speaker and best-selling author who earned an undergraduate degree from the College of William and Mary and master's degree from the University of Southern California. He is also a skier who competed in the 2006 Paralympics in Italy. Josh has one leg. His left leg was amputated due to cancer when he was nine years old. He got started speaking after hearing a motivational speaker at school and realizing that his experiences might also help others confront challenges in their lives.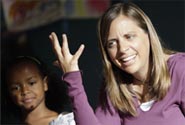 Cheryl Collier
I can teach your children …
Cheryl is an elementary school teacher who is deaf. Cheryl teaches at the Maryland School for the Deaf and uses sign language to communicate with her students and others. She went into teaching because she has always liked working with young children. When not in her classroom, Cheryl provides mentoring and support to middle school students as a volleyball coach.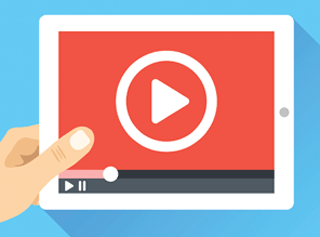 PSA Download Center
Find links to all available versions of our videos, including captioned and audio-accessible options, Spanish language versions, as well as various run times.