Campaign for Disability Employment 2.0: New Look and Features, Same Crucial Mission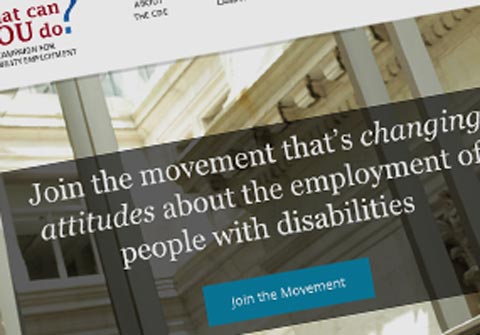 Campaign for Disability Employment 2.0: New Look and Features, Same Crucial Mission
By the CDE Team
If you're reading this blog post, it means you've found your way to the Campaign for Disability Employment's (CDE) new website—the online home of our multi-faceted campaign. The site's launch is an exciting milestone for the CDE, which since 2009 has been promoting positive messages to employers and others about the skills and talents that people with disabilities bring to America's workplaces and economy.
While we hope you like our new look and navigational structure, it's worth pointing out that there's much more to the CDE than our new website. We've also launched a number of new and improved campaign features, all designed to help shape attitudes about the employment of people with disabilities and foster dialogue around an issue of vital importance to all workers.
Ready for the windshield tour?
The CDE Blog. First and foremost is the new blog you're currently reading. On a regular basis, we'll be showcasing the voices of a wide range of guest contributors. And you could be one of them! If you have an idea for a blog post about disability employment, we'd love to hear about it. Simply contact us at .
Subscribe to the CDE. The new website makes it easier than ever to subscribe to the CDE's periodic e-mail updates and follow us on social media. Check out the "Stay Connected" section.
Join the Movement. This section of our website offers concrete guidance on ways to leverage the CDE's tools and products. From web and print ads, to ready-to-publish articles, to "Proud Supporter" badges, this is your centralized toolbox.
PSA Toolkits and Download Center. The CDE's flagship media products are our three television PSAs, and they cannot be aired too often. We give you the tools to share, screen and embed the PSAs, and tell your local TV station managers that you want them played on their networks. What's more, each PSA web page features links to complementary materials like posters and discussion guides that you can use to facilitate insightful dialogues about the PSAs' messages.
'Where to Learn More' Section. While the CDE does not provide one-on-one assistance to employers or individuals with disabilities seeking training or employment, there are many resources that do. And you'll find them in our website's "Where to Learn More" section!
Engaging Dialogues. The CDE website is the place to learn about our efforts to foster important dialogues about workforce diversity and inclusion. From our Twitter chat series to our soon-to-be launched photo-sharing campaign, we offer numerous ways to join the conversation. Subscribe to us, and you'll be the first to hear all about them.
It's been an honor to manage the CDE over the past eight years. But the campaign would not be where it is today without the CDE Members who meet regularly to shape and steer the initiative. They include the American Association of People with Disabilities (AAPD), the Employer Assistance and Resource Network on Disability Inclusion (EARN), the Job Accommodation Network (JAN), the National Business and Disability Council (NBDC), the National Gay and Lesbian Chamber of Commerce (NGLCC), the National Organization on Disability (NOD), the Society for Human Resource Management (SHRM), Special Olympics (SO) and the U.S. Business Leadership Network (USBLN)—all of whom have made the CDE a successful and truly collaborative effort over the years.
We look forward to entering the CDE's next chapter with them—and all of you—by our side. Together, we can remind the world that, at work, it's what people CAN do that matters.
At work, it's what people CAN do that matters
Subscribe to our updates, follow us on social media and learn how to spread the word.