Tapping the Skills of People with Disabilities to Meet Workforce Needs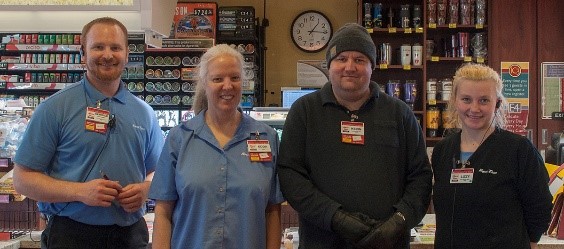 Tapping the Skills of People with Disabilities to Meet Workforce Needs
By Joalyn Torgerson
Hiring individuals with disabilities is something those of us at Kwik Trip have been committed to doing for almost 30 years, but in 2013 we started looking at ways to increase our numbers. It was at that time that Wisconsin's Division of Vocational Rehabilitation (DVR) met with us, and a partnership was born.
Today, this partnership has led to significant success—not only in increasing our disability inclusion efforts, but also meeting an identified workforce need through the creation of a new company-wide position, the Retail Helper.
To help us establish this position, DVR offered to be the "gatekeeper" among different agencies, allowing us to provide a uniform program for all our stores. Soon, the partnership was replicated in Minnesota and Iowa. (In Iowa, we operate under the name Kwik Star.)
Now more than half of our 634 stores have Retail Helpers, who do a variety of tasks, such as cleaning, stocking shelves and coolers and basic food prep. You name it, and they do it! As a result, our Guest Service Coworkers now have more time to focus on delivering great customer service, which is a core tenet of our business philosophy. The bottom line benefits of adding the position have been clear. We've even had a Store Leader tell us she needed to order more product for her cooler because the Retail Helper does such a good job keeping products stocked, her sales increased!
The reason this partnership works so well for us is that the state vocational rehabilitation (VR) agencies have taken the time to get to know our company. They know our mission statement (to treat others like we'd like to be treated and make a difference in someone's life) and core values, and understand our business model, which focuses on providing the best customer service to our guests, at all times. VR uses this information to screen applicants, helping create the best job matches possible. VR also provides ongoing supports as appropriate, including job coaching and assistance with retention if problems come up. This assistance is clearly effective, as turnover for our Retail Helpers was only 9 percent last year, versus 45 percent for our general part-time employees.
One of the greatest successes, though, has been opportunities for advancement. We have had several Retail Helpers be promoted to Guest Service Coworker, creating new opportunities for them as well as those hired to take their place. A perfect example is our Hastings, Minnesota store, where Store Leader Derrick Struve has hired three Retail Helpers, two of whom have already been promoted. Lizzy Wright, who started at the store while still in high school, is one. Today, Lizzy hopes to attend college and pursue a management career with the company. Another is Edda Kassel, who joined in March 2016 and was promoted within a few months. Kevin Murphy is the store's newest Retail Helper and thus far "absolutely loves" his job, in part because he earns enough to pay for the pursuits he enjoys outside of work, including photography and riding along in planes at a local flying club.
In New Richmond, Wisconsin, Amy Bellomo, was one of the first Store Leaders to promote a Retail Helper to a Guest Service Coworker. She understands that people with disabilities are tremendous assets in the workplace. Her current Retail Helper is an integral part of the store and a favorite of regular guests due to his positive attitude and energy. Guests at the Kwik Star in Marshalltown, Iowa similarly appreciate Retail Helper Julie Propp. For Julie, age 60, employment at the store is her first integrated employment experience. She's been a valued member of the store's team for two years. "I'm one of their big family and get along with everyone," she says.
We look forward to continuing to partner with VR in the years ahead to add more qualified people with disabilities to the Kwik Star family.
About the Author
Joalyn Torgerson is the Return to Work Coordinator at Kwik Trip, Inc., which was recently named "Employer of the Year" by the Council of State Administrators of Vocational Rehabilitation's National Employment Team.
At work, it's what people CAN do that matters
Subscribe to our updates, follow us on social media and learn how to spread the word.