#ADA30: Increasing Access and Opportunity and the Thrill of Discovering What You Can Do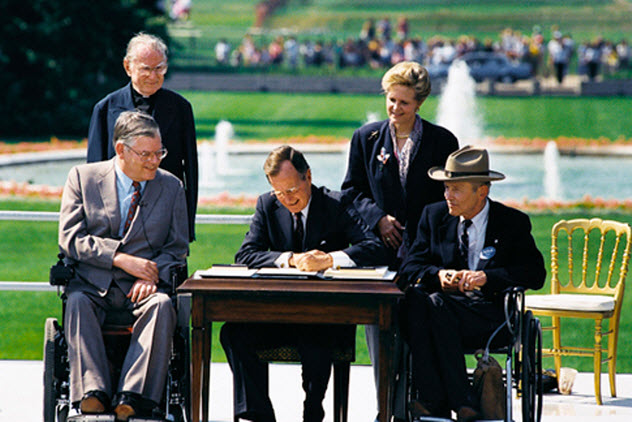 #ADA30: Increasing Access and Opportunity and the Thrill of Discovering What You Can Do
By Jennifer Sheehy
Editor's Note: The following U.S. Department of Labor blog has been re-posted with permission.
The month of July always has a special resonance with me, because it marks the anniversary of two events that significantly impacted my life and career.
One would have a profound impact on my life, both personally and professionally, even if I didn't know it at the time: the passage of the landmark Americans with Disabilities Act (ADA), signed into law by George H.W. Bush 30 years ago this weekend, on July 26, 1990.
At the time, I was working for a hotel in Washington, D.C. We had already undertaken some renovations to make the hotel accessible to guests with disabilities. Doing so was essential to us because we wanted all of our guests, including guests with disabilities, to have the same excellent experience. Back then, ADA accessibility primarily meant changes to the physical environment.
A mere four years later, the other significant event occurred when I sustained a severe spinal cord injury over the July 4th weekend, losing my ability to walk and use my hands. The rest of the month was a blur of surgery and tests, with medical teams and family surrounding me. When I realized I would have a long-term disability, I feared for my future, especially my career. Would I be able to continue contributing, as I had envisioned, to my family and community? Would I be able to work?
Fortunately, the ADA had already affirmed that all Americans, including those of us with disabilities, have the right to gain skills and work for the benefit of our families, communities and the nation's economy. By prohibiting discrimination based on disability in employment—and employment services and supports—it has increased access and opportunity.
Thirty years later, ADA accessibility means more, extending beyond the physical to include communications, services and programs. People with all types of disabilities—physical, sensory, intellectual and mental health-related; apparent or not—have the right to contribute to and enjoy the benefits of work and their communities.
I've often considered how things might have been different if my accident had occurred before the ADA. My work has remained central to who I am—and inclusive workplace policies and practices make it possible.
Indeed, I am fortunate to love what I do. Like most people, I also relish time off the clock, and the impact of the ADA comes into play—literally—there as well. An active lifestyle was important before my injury, and it remains so today. Over the years, I've been skiing, parasailing, hang gliding and ziplining, and I have taken flying lessons. Perhaps best of all, I've been fortunate to continue boating, a favorite activity I grew up doing with my family.
Some might call me a thrill-seeker, which may be true, but what I've loved most about these adventures is the opportunity to experience them with family and friends. The real thrill is being part of a team—of people both with and without disabilities—and discovering what we can achieve together.
Health and safety guidelines have curtailed my opportunities for adventures this summer, but every day I still experience that thrill. In fact, in some ways it has been heightened, as those of us at the U.S. Department of Labor carry on our mission to protect and support America's workers during this unprecedented time. Now more than ever, I'm proud to be part of the team committed to advancing the spirit of the ADA, so that all people with disabilities have equal access and opportunity to discover what they can do.
At work, it's what people CAN do that matters
Subscribe to our updates, follow us on social media and learn how to spread the word.