My Uncommon Experience with a Mental Health Condition at Work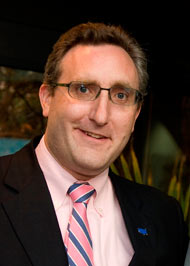 My Uncommon Experience with a Mental Health Condition at Work
By Andy Imparato
As the 53-year-old executive director of a national non-profit in Washington, D.C., I have been living with the symptoms of bipolar disorder for almost 30 years. I have also been "out at work"—meaning open about my diagnosis—since the beginning of my career as a disability rights attorney, policy wonk, and eventually senior manager in a variety of government and non-profit roles. (In fact, I am proud to say that, in one of these positions, I played a part in launching the Campaign for Disability Employment, nearly 10 years ago.) But, sadly, my story is uncommon.
My first professional job after law school and a federal judicial clerkship was at the Disability Law Center in Boston, where I worked with other attorneys with visible and non-apparent disabilities. They modeled for me the value of incorporating our lived experiences with disabilities as a source of strength, connection and credibility in our work. I also learned from disability leaders in Boston the idea that disability is a natural part of human diversity and not inherently negative or limiting. They encouraged me to be proud of myself and have the same high expectations for what I could accomplish before I started experiencing the symptoms of my condition.
Almost three decades later, I am so grateful to the people I met in those early stages of my career. They helped me to see my psychiatric disability as a positive differentiator as I competed for jobs. My annual bouts of depression help me to slow down and reflect on my work and priorities, create space for others to step up and lead, and understand the experience of many people with disabilities who may lack self-esteem and initiative. My annual bouts of hypomania help me dream big, accomplish large tasks, and connect with new allies who can advance our work. I experience these two modes—depression and hypomania—as "low energy" and "high energy." The high-energy mode helps me believe in myself, push myself and my colleagues, initiate new projects and innovate. The low-energy mode helps me recharge, slow down and reflect. Both modes have helped me build a successful career. My work, my marriage to my college sweetheart, my two grown sons, my co-workers and my many dear friends in the disability movement have helped create the structure and context that makes it easier to weather the ups and downs of my moods.  My dog Sally helps too.
As we commemorate Mental Health Month in May, I encourage employers to recognize that there are already significant numbers of people with depression, anxiety, bipolar disorder, obsessive compulsive disorder, autism, ADHD and other long-term conditions that affect mental health in your workplaces. Do these individuals feel comfortable being "out at work" with their conditions? Do they feel comfortable asking for accommodations that can help them perform their best? Do they know their rights under the Americans with Disabilities Act (ADA) and other applicable laws? Has anyone ever encouraged them to see their lived experience with a mental health condition as something that can make them better qualified for certain jobs or tasks than someone without that experience?
If not, I encourage you to try to foster a work culture where your own employees can answer all of these questions, affirmatively and without hesitation. When you succeed, you will have helped create a workplace where mental health conditions are viewed not as a negative, but for what they are—a natural part of human diversity. Your workplace culture will improve, your staff retention will increase and your employees will be proud to work for you. With your support, my uncommon story can become more common over time.
About the Author
Andrew Imparato is the executive director of the Association of University Centers on Disabilities (AUCD), a national network of federally funded centers and programs that promote inclusion, equity and well-being for children and adults with disabilities in every state and territory.
At work, it's what people CAN do that matters
Subscribe to our updates, follow us on social media and learn how to spread the word.